© 2016 Sound Photosynthesis
All rights reserved.
Tel: (415) 409-3220
E-mail: Faustin
Web administration: webmaster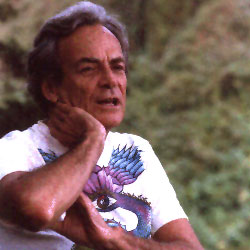 RICHARD FEYNMAN
Richard Feynman originated the idea of quantum computing, nanotechnology, as in molecular machines, in the early 1950s. One of the greatest physicists, teachers and renaissance men of the twentieth century. He was broadly celebrated in the science world by the time his popular best selling books were published until he came into the public awareness during the Congressional hearings when he was televised demonstrating one of the problems with the Space Shuttle Challenger causing the disaster by showing the temperature variable with the material used in the O-rings.

RICHARD FEYNMAN:
Bits and Pieces -- from Richard's Life and Times
See and hear the iconoclastic Nobel prize-winner playing congas and other rhythm instruments, dancing, conducting idiosyncratic workshops, participating in the Challenger hearings, explaining the "Feynman Diagrams" and much more. A lovely and memorable visit. TRT - 79min
1 Video Cassette. #V90-88. $35.99





RICHARD FEYNMAN:
Computers From The Inside Out
The audio is understandable to anyone who can visualize Richard's descriptions. The way the Nobel Prize winner expresses the story makes a person want to understand. The Video shows him pointing to what he is describing.
1 Audio Cassette. #A29-85. $10.99
1 Video Cassette. #V23-85. $35.99
1 Compact Disk. #D35-85. $15.99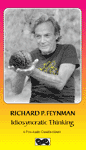 RICHARD FEYNMAN:
Idiosyncratic Thinking Workshop
Two years of insight spoken during two five day workshops went into the making of the five-tape audio album. The video is an abbreviated highlights tape, stressing the visuals. Feynman fans are going to want both the audios and video of this series. Five 90 minute tapes.
5 Audio Cassettes. #A30-85. $49.95
1 Video Cassette. #V441-85. $35.99





RICHARD FEYNMAN:
Lost Lectures
with CD
1 Publication. #P180-96. $35.00





CHRISTOPHER SYKES:
No Ordinary Genius: The Complete Illustrated Feynman
Any Feynman fan will have to have this book. The NOVA program, produced by Christopher Sykes of BBC, has been viewed all over the world. Gratefully, Sound Photosynthesis is fondly mentioned.
1 Publication. #P25-94. $25.95





RICHARD FEYNMAN:
QED - The Strange Theory of Light and Matter
"Physics Nobelist Feynman simply cannot help being original. In this quirky, fascinating book, he explains to laymen the quantum theory of light--a theory to which he made decisive contributions." -- The New Yorker
1 Publication. #P159-85. $19.95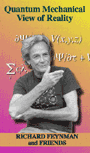 RICHARD FEYNMAN:
Quantum Mechanical View of Reality: Workshop at Esalen, 11/83
A very brief (90 minute audio) edit of the workshop is available in audio and the set of videos is presented with very little editing...both are a must for dedicated Feynman fans--8 hour video. If you must have audio it's available, but the video is much better.
1 Audio Cassette. #A220-83. $11.99
4 Video Cassettes. #V440-83. $149.99





John Gribbin and Mary Gribbin:
Richard Feynman . A Life in Science.

1 Publication. #P481-2000. $13.95





RICHARD FEYNMAN:
Six Easy Pieces
Designed for non-scientists, Six Easy Pieces is an unparalleled introduction to the world of physics by one of the greatest teachers of all time. "If one book was all that could be passed on to the next generation of scientists it would undoubtedly have to be Six Easy Pieces." ---John Gribbin in New Scientist Available in limited number.
1 Publication. #P160-95. $13.99





Richard Feynman:
Surely You're Joking Mr. Feynman. Adventures of a curious Character.
Out of Print, please call for availability
1 Publication. #P480-85. $11.99





RICHARD FEYNMAN:
The Feynman Lectures on Physics: (Volume 1) Quantum Mechanics
6 AUDIO CASSETTES album packagaing from Perseus Books
6 Audio Cassettes. #A217A-2000. $79.99





RICHARD FEYNMAN:
The Feynman Lectures on Physics: (Volume 2) Advanced Quantum Mechanics
from Perseus Books
6 Audio Cassettes. #A217B-2000. $79.99





RICHARD FEYNMAN:
The Meaning of it All
In April 1963, Richard P. Feynman gave a series of remarkable lectures at the University of Washington in Seattle. These three consecutive talks were classic Feynman. Full of wit and wisdom but their subject matter was wholly unexpected: Feynman spoke not as a physicist but as a concerned fellow citizen, revealing his uncommon insights into the religious, political and social issues of the day.
1 Publication. #P404-98. $22.00





Richard Feynman:
The Pleasure of Finding Things Out. The Best Short Works of Richard Feynman.
"This marvelous collection of talks, interviews, ad essays offers a memorable sample of wit, brilliance, and irrevence of the most celebrated physicist of our time. The more one reads of Feynman, the more one falls in love with his refreshingly enthusiastic view of the world." ---Alan Guth, author of The Inflationary Universe"Feynman's distinctive voice rings out in this book." ---Scientific American
1 Publication. #P482-99. $24.00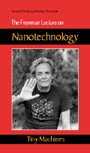 RICHARD FEYNMAN:
Tiny Machines - The Feynman Lecture on Nanotechnology
Richard Feynman originated the idea of nanotechnology, or molecular machines, in the early 1960s. Here he explains the idea to a general audience, and illustrates it using slides and diagrams. The talk is amusing, entertaining, informative and a classic in the history of technology. One of the greatest physicists of the twentieth century, this man located the problem with the Space Shuttle Challenger during the hearings. On this tape he talks about the tiniest tools and the fascinating way they work. Tom Van Sant's eye art piece is discussed and pictured in the video. TRT 80 min.
1 Video Cassette. #V14-84. $35.99





RICHARD FEYNMAN:
Tiny Machines-The Feynman Lecture on Nanotechnology
Richard Feynman originated the idea of nanotechnology, or molecular machines, in the early 1960s. Here he explains the idea to a general audience and illustrates it using slides and diagrams. The talk is amusing, entertaining, informative and a classic in the history of technology. One of the greatest physicists of the twentieth century, this man located the problem with the Space Shuttle Challenger during the hearings. On this tape he talks about the tiniest tools and the fascinating way they work. Tom Van Sant's eye art piece is discussed and pictured in the video.TRT = 79:02
1 Compact Disk. #D34-84. $15.99
1 Compact Disk. #D34-84. $15.99





RALPH LEIGHTON:
Tuva or Bust!
It all began when Richard Feynman, Nobel Prize-winning physicist, jazz drummer, all-around character, and author of the bestselling "Surely You're Joking Mr. Feynman!", asked this question of his friend and collaborator Ralph Leighton over dinner one night. "Whatever happened to Tannu Tuva?" It took ten years to find the answer, as the two men followed a trail of dated travel journals and Soviet radio broadcasts to a remote region in central Asia--a place whose capital doesn't have a single legitimate vowel and whose natives practice a bizarre form of "throat-singing." This exhilarating book also records Feynman's valiant ten-year struggle with cancer, his battle with NASA bureaucracy as he tried to unearth the truth about the Challenger disaster as a member of the Rogers Commission, and an extraordinary friendship between two zany strategists that ended only with Feynman's death. Tuva or Bust! is high adventure of the mind and spirit, overflowing with intellectual curiosity and a sense of the utter gravity of fun.
1 Publication. #P337-98. $22.00





RALPH LEIGHTON:
Tuva or Bust! At Cody's Bookstore in Berkeley
50 minutes
1 Audio Cassette. #A386-91. $19.99





RICHARD FEYNMAN:
What Do You Care What Other People Think?
Out of print paperback book, available through our book search in limited numbers. Inquire.
1 Publication. #P14-88. $25.00




[ back to top ]